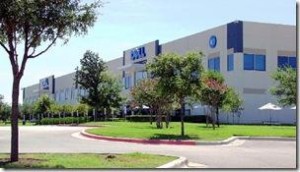 A little over six years ago, I made my first trip to Austin as a Dell employee. Dell had acquired SilverBack Technologies a few weeks before, and the visit was my first chance to get a sense of my new employer. I will admit to being something of a Dell fan-boy in the decade before our acquisition. I followed the rise of Dell through college, bought my first Dell PC a couple years out of school, and purchased a new Dell every two years like clockwork. The Dell I remembered from the 1990s was one to be held in awe, when their manufacturing and supply chain prowess made them a juggernaut in the tech industry. Confession: I may also have been one of 3-4 people who actually purchased Dell's short lived MP3 player. ;)
For this first trip I had planned a personal diversion: a visit to a Dell factory. Although I had long since stopped being a fanboy, the opportunity to visit a factory felt like being invited into the Vatican's Secret Archives.
The factory was located in a large white nondescript building on the Dell Parmer campus. We were met at the lobby by our tour guide, a long time Dell veteran that joined the company as a startup and had since designed Dell factories around the globe. For the next couple hours, our guide told us the story of how Dell grew from a startup in Michael's dorm room to a global manufacturing giant. We visited the control room where orders flowed into the factory, and watched as desktops rolled along conveyor belts and snapped into cages to be provisioned and tested. We spent time on the floor of the 200,000 square foot facility, talking with factory employees and discussing the many technical and process innovations that optimized Dell's manufacturing process.
In heading back to my rental car, it was hard not to be impressed with what Dell had achieved in less than two decades as a public company. But at the same time, it also felt like watching an aging athlete at the end of their career, where the average performance was only occasionally broken by short flashes of the brilliance that once made them great.
Within seven months of my visit, Dell announced the closing of the factory I had visited as part of a strategy to increase competitiveness. With this move came the layoff of 800+ factory employees and the closing of the company's last foothold of manufacturing in the U.S.
While I do not know what the future holds for the newly private Dell, I can't help but think back to my visit to the factory of a once great U.S. company in transition and think: what could have been?