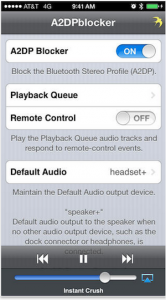 One of my first surprises with Google Glass was the lack of support for
A2DP
, the bluetooth profile that enables streaming stereo audio. If you have ever streamed Pandora or Audible from your iPhone to your bluetooth headset, you are using Advanced Audio Distribution Profile (A2DP). The iPhone introduced A2DP support in IOS 3.0, and by default does not recognize external audio sources that do not support it. The result: while you can make and answer phone calls in Google Glass, you cannot use it as a general purpose headset for other apps such as Pandora, Spotify, iTunes, or Audible. You can however listen to music from Glass-enabled applications, such as Google Music.
A crude workaround for iPhone users can be found in a $2.99 app called A2DPblocker. This app blocks A2DP from connecting on a Bluetooth enabled iOS device, allowing you to direct your iPhone audio to your non-A2DP enabled Glass headset. Before using, download & install A2DPblock, and ensure your Google Glass is paired via bluetooth with your iPhone. Whenever you want to direct audio to your headset, open the A2DPblock app, and select Headset+ as your default audio. This will direct all audio from the iPhone to your Google Glass headset.
One downside is that if a call comes in while A2DPblock is running, you will need to re-enable it after the call is complete (it does not properly return back to blocking A2DP after a call). While this is not an ideal solution, it is a passable workaround until apps start supporting Glass or A2DP support is added to the headset. I also filed an issue with the developer in hope he might resolve the re-enabling after call issue.